Local restaurant receives award from Iowa Restaurant Association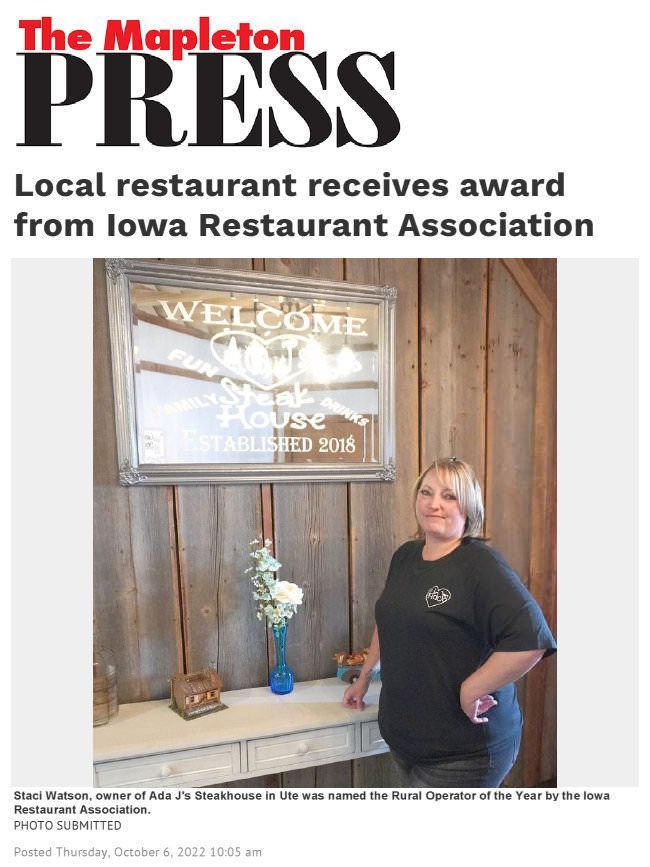 Posted Thursday, October 6, 2022 10:05 am
Staff reports
The Iowa Restaurant Association recently released the winners of its annual state hospitality awards. Industry members from across Iowa will gather to recognize the honorees at the 27th Annual Celebrating Excellence ceremony. The event takes place November 14, at the Community Choice Credit Union Convention Center in Des Moines and is open to the public.
Staci Watson, owner of Ada J's Steakhouse in Ute was named the Rural Operator of the Year. Rural Restaurant Operator of the Year award recognizes the role and importance of restaurants and taverns in Iowa communities with fewer than 5,000 people.
Monona County Economic Development Director, Charlie Persinger wrote the nomination for Watson:
Self-taught, self-motivated and self-aware, Staci Watson, owner of Ada J's in Ute, Iowa, has become a destination for foodies in Western Iowa.
Featured in the Iowa Magazine, the Sioux City Journal, one of the stops on the T-Bone Trail sponsored by the Iowa Gallivant and honored by the Iowa Egg Council serving a top 10 omelet, Staci and her team, including her mother are ready to welcome guests from a 75-mile radius to her restaurant tucked away in the Loess Hill or serving 500 for a community/family celebration or fundraiser.
Staci, like many great chefs, trained alongside family to plant and harvest large gardens for fresh produce, preserve wild fruit jelly, bake bread and pies and to only use what was fresh to create daily and celebratory meals.
Her restaurant is named for her great grandmother Ada.
Along the path to ownership, Staci worked summers preparing three daily meals at a Girl Scout Camp, she learned both front and back of house duties in several restaurants, ultimately named manager at an Omaha restaurant for six years. Needing to return to Monona County to care for family, she identified the need and opened a small café at a local cattle sale barn serving breakfast and lunch. Receiving positive feedback from her culinary creations, she started catering and very quickly outgrew her facilities. Simultaneously, Staci was waitressing for the restaurant in Ute, trying to save for her next venture when the owners approached her about their wish to sell. The stars seemed to align for her plan and in 2018, Staci opened Ada J's.
Serving only Iowa grown beef and pork, she works to buy locally and has recently undergone a renovation hiring local contractors that created unique light features for the dining room.
As in many small communities, there is always a community project in the works, and Staci and her team are usually front and center to donate fresh family favorites to local and county fundraisers.
Some of her favorite desert creations that customers request for the menu or catering include bread pudding, French Silk pie, a salted caramel banana cake that a friend slyly refers to as "bananagasim cake" but her all time favorite is a white chocolate red raspberry pie.
While community engagement is needed, Staci strives to hire high-school students, many times as their first job. She works to instill a strong work ethic that usually helps these students get a job when they graduate and enter the workforce or in a different community where they are working toward an advanced degree.
Staci is actively involved in the community and county and deserves to be recognized for her entrepreneurial efforts in the food industry.
Watson said it was definitely a surprise to be named the Rural Operator of the Year.
"I was so excited to hear the news and humbled that they chose us! Watson said. "My team and I have worked so hard on continuously improving every aspect of my business. It's a wonderful feeling to know that all our efforts are being recognized and appreciated.
Persinger added he is proud that a Monona County restaurant is being recognized.
"One of the most rewarding parts of being in the hospitality industry is helping our patrons celebrate life's biggest moments. These awards and gala are one of the rare occasions when Iowa's hospitality industry pauses for a moment to recognize, appreciate, and celebrate some of our own," said Jessica Dunker, president and CEO of the Iowa Restaurant Association. "From the state's longest operating restaurant, to innovators in sustainable practices, this year's honorees exemplify perseverance, professionalism in hospitality, creativity in serving their customers, and an unsurpassed commitment to their communities."
2022 Award Winners:
Restaurateurs of the Year- Mike & Cindy Breitbach, Breitbach's Country Dining, Balltown
Chef of the Year– Chef Joe Tripp, Harbinger, Des Moines
Hospitality Employee of the Year– Rosa Pinon Reyes, Americana, Des Moines
Emerging Leader – Haile Duncan, Mas Margaritas, Cedar Rapids
Rural Operator of the Year - Staci Watson, Ada J's Steakhouse, Ute
Purveyor Partner of the Year– John Rasley, E & J Gallo Winery, Des Moines
American Dream Award– Blanca Plascencia, El Fogon Mexican Grill, West Des Moines
Faces of Diversity Award- Kathy Conway & Teri Link, Knockout Melts & Rock Salad, Dubuque
Restaurant Neighbor Philanthropy Award- Bethany DeVries, Della Viti, Ames
Industry Champion– Jeremy Thompson, Sazerac, Des Moines
Legislator of the Year– Senator Chris Cournoyer, District 49, Le Claire
ProStart Educator of Excellence – Andrea Kuhl, Sergeant Bluff-Luton High School
Mentor of the Year- Chef George Formaro, Orchestrate Hospitality, Des Moines
New this year is the Sustainability & Innovation Award which recognizes an Iowa hospitality establishment that exhibits leadership in the protection of the environment and the implementation of sustainable practices. The inaugural recipients of this award are Michael & Ilee Muller, owner/operators of Grace on Main in Elk Horn.
The Iowa Restaurant Association's fourth class of "40 Women to Watch in Iowa's Hospitality Industry" will also be recognized at the awards event.
*** POSTED BY PERMISION OF THE MAPLETON PRESS